Franklin T10 - 4G Hotspot
Franklin T10 - 4G Hotspot
The Franklin T10 is a small lightweight mobile hotspot that supports all possible T-Mobile bands.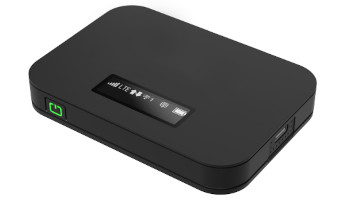 This device is available with the Contributor level of membership.
The Franklin T10 mobile hotspot supports all possible T-Mobile/Sprint 4G bands, including T-Mobile's extended range bands and the bands formerly used by Sprint. In comparison to the M2000, this device is weighs much less but offers much slower speed (it only supports 4G and not 5G).
Specifications
Battery Life: 8 hrs usage, 48 days standby (3000 mAh)
Maximum Number of Connected Devices: 15 Wi-Fi
Networks supported:

4G LTE (bands 2, 4, 5, 12, 25, 26, 41, 66, 71)
3G/4G (bands 1, 2, 4, 5)

Max Theoretical Speed: 150 Mbps Down / 50 Mbps Up
Wi-Fi Technology / Frequencies: 802.11 b/g/n - 2.4GHz or 5GHz (not both at the same time)
Dimensions: 4.13" x 2.63" x 0.51" (2.99 oz)
Ports:
Advanced features:

Can run without battery if attached to a power source

VPN Support: VPN pass-through capability available in Advanced Settings if you want to allow VPN tunnels to pass through your device's firewall. VPNs can be used on connected devices.
External Antenna Ports: None
Please note that max theoretical speeds reflect a device's capabilities under perfect laboratory conditions. Many variables, including as terrain, hotspot placement, distance from tower, network congestion and other factors, may affect the speeds measured during conventional use.
Manual
Download Franklin T10 Manual (PDF)
Troubleshooting
One thing to try is a full factory reset. You can do this by visiting the admin interface and choosing Settings > Mobile Network > Advanced > Factory Reset. Alternately, directly load this URL: http://192.168.0.1/settings/mobile_network-advanced.html.
Note that this will revert the admin password to the default, which is "admin".